Christmas tree? Done,
Christmas cards? Done ; Christmas menu? Done ; Christmas gifts? Done (almost)…
Well, no need to say, you were busy these last days…
But what about you? Are you ready to shine under the Chrismas tree?
I already wrote a post about « What to wear for Christmas and New Year eves »
Let's see what you can do to look at your best!
1/ Before getting dressed think first about your morphology
Your silhouette is in A, V, H, I, X ?? Certain shapes and cuts are flattering for you, some are not…
Let's see…
If you don't like what is happening under your bust (wide hips, saddlebags, round thighs… ) and if you have a marked waist go for a dress that flares from the waist.
Like these ones
If you like your arms and shoulders, chose a strapless dress
But if you don't like them, prefer a nice and elegant jacket
If you think that your silhouette is too round:  don't hide behind a large and undefined shape dress. Prefer a dress in a fluid (but not too thin) fabric with a neckline or a sheer section.
If you don't feel like wearing a dress (or a skirt). Go for a nice top (a neckline silk blouse or a sparkling sequin sweater) to light up your pant.
Or choose a chic jumpsuit.
2/ Cheat (just a little) with your worst figures
With good underwears (minimizer bras, push-up bras…) or shapewear, many problems can be solved: you want to slim your legs, your hips, your thights…
For an other « no-scalpel chirurgy effect », why not trying the new Wonderstripes? An instant eye lifting without surgery, that's what it promises… Easy to use, made of skin friendly, transparent silicone, these patches open your eyelid for a fresh and younger glance.
3/ Be ready in 5 minutes (OK let's say 10!)…
Wash your hairs, use your usual conditionner or a good hair oil (like Kerastase Elixir Ultime) and dry your hairs  putting your head upside down. Like this…
Then brush them « coiffé décoiffé » (wavy like Charlotte Gainsbourg :-)
Do a make-up « à la française ». I mean light and natural…
First, use a BB cream rather than a foundation. My favorite : Garnier BB Cream Miracle Skin Perfector.
Then a good concealer that combat wrinkles and dark rings under the eyes. My favorite: Yves Saint Laurent « Touche Eclat » (Radiant Touch)
and Yves Saint Laurent Top Secret Flash Radiance Skincare brush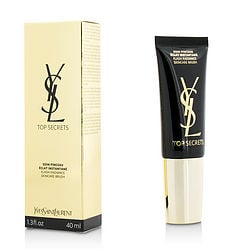 A touch of pink blush and a brightening face primer for the cheekbone
A red (real red) lipstick for the glamour…
Et Voila! You're ready now!!
I take the opportunity of this post to thank you so much for such a wonderful year. I loved reading all your kind and thoughful comments and emails. Very much looking forward to share with you new exciting adventures in 2015. I'll try to write more constanstly and I hope finishing soon a brand new « How to get dressed Effortless Chic » Guide (still working on it…).
(PS : The Guide is ready now ;)… Have a look here…)
Happy holidays and all the best for the end of the year Celebrations. I whish you to share all this very precious moments with your beloved family and friends! And as we say in French: